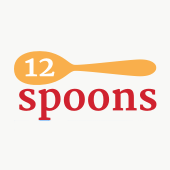 Guest post by Sally Fallon Morell, president of the Weston A. Price Foundation
The 12 Spoons restaurant project is the result of a long planning period, starting with the request from several WAPF members to help them find restaurants that serve healthy food, then raising the funds, then the laborious process of building the website, which began about two years ago.  Now we are launched, thanks to generous funding from the Forrest and Francis Lattner Foundation, the capable guidance of WAPF web project manager Jill Nienhiser, and the knowledge and enthusiasm of our 12 Spoons website administrator, Monica Corrado (a Teaching Chef and honorary WAPF board member).
I believe this project has a huge future—think of it as a kind of WAPF Michelin Guide.  In 1900 the tire manufacturers André Michelin and his brother Édouard published the first edition of a guide for French motorists. At the time there were fewer than three thousand cars in France, and the Michelin guide was intended to boost the demand for cars, and thus for car tires. Eventually the guide came up with a three-star rating system. One star denotes "A very good restaurant in its category"; two stars indicate "Excellent cooking, worth a detour"; and three stars crown the restaurant with "Exceptional cuisine, worth a special journey."
The Michelin Guide has had an incalculable influence on the growth of the restaurant industry, not only in France, but throughout the world.  We have visions of the same kind of influence for 12 Spoons.
First and foremost, this is an educational endeavor, a way to bring our nutritional principles to a far wider audience than our current membership. Secondly, it can serve as a way of influencing chefs to incorporate our healthy principles into their menu offerings. If a rating of six spoons means that a restaurant is "worth a detour" and of 12 spoons implies "worth a special journey," then chefs will have plenty of incentive to improve the way they prepare their food.
When I was eleven years old, my parents took my brother and me on a driving trip around France. The whole trip was planned with the Michelin Guide in hand, so that we could eat in good restaurants midday and evening. (I'll never forget my first meal in France—steak with a reduction sauce and delicious, tender string beans, swimming in butter.) Just imagine American families doing the same thing—taking a driving tour of the U.S. with the iPhone in hand, eating only at restaurants that have at least one spoon, making detours to restaurants with six spoons or more, and taking a special journey to the restaurants with 12 spoons!
Twelve spoons go to restaurants that incorporate all our dietary principles—that includes making food from scratch and serving organ meats, homemade salad dressings using olive oil, lacto-fermented condiments and beverages, genuine sourdough bread and desserts made with natural sweeteners. But the two most important ones, in my opinion, are cooking in animal fats and preparing broth for soups, sauces, stews, and gravies.
Before the Second World War, almost all restaurants used animal fats—usually lard or tallow—for cooking and frying. These fats are stable and healthy and need to be returned to the sauté pans and fry stations. With time, we hope to see beef and lamb tallow used by fast food restaurants—as they did to produce delicious fries up until the 1980s.  If 12 Spoons can be the force that gets the toxic vegetable oils out of the American food supply, it will have served a very noble purpose.
Making soups, sauces, gravies, and stews using healthy bone broth instead of powders loaded with MSG is a second major goal.  When the Weston A. Price Foundation scouts hotels for our yearly conference, the first question we ask the chef is, "Do you make stock with bones?" If they say no, we look for another hotel; if they say yes, then we know we can work with them.  We need to get the stock pot back in all restaurants, so they serve sauces, soups, and gravies that are genuinely nutritious, and not fake soups and sauces made with powdered "bases."
So we are launching 12 Spoons with very high hopes!  And you can help!  If you would like to be a rater, please use the Contact Form to let site administrator Monica know of your interest.  The more restaurants posted at 12 Spoons, the more useful it will be—not only in helping our members find nutritious food at restaurants (and eventually even at fast-food outlets) but also in spreading our educational principles far and wide.